Here's what others say about us!
"What can I say about the crazy bunch who make up Eden apart from the biggest THANK YOU! They make a massive difference to the lives of the residents of Fitton Hill and I can't thank them enough for everything they do. I love working with them and they are a massive support to me and everyone who is lucky enough to cross paths with them"
Nikki Quigg – Community Development Officer, Oldham Council
"Working with the Eden Team has been of great benefit to our patients on Fitton Hill. They add the extra dimension of friendship, personal encouragement and focus to move forward with their lives and out of their problems. This improves their mental and emotional health. The team also add a spiritual dimension: so that when patients struggle with ghosts or spiritually oppressive issues, they can help bring resolution. On practical fronts they are also very supportive in the community: helping with decorating, shifting furniture or clearing away rubbish: which all makes for a better community and healthier patients".
"The Brew – Eden Community Cafe has become a cornerstone for many in the community: offering a neutral, friendly place to meet with people; to follow-through with voluntary work and is also a good environment to make friends and improve self confidence and self esteem. Many people have commented on this, and it is a good place for both men and women to overcome social or mental health barriers in getting out and socialising".
Ruth Chorley, Community Nurse
Focussed Care, Hill Top Surgery 0161 622 2760
Hope Citadel Healthcare
This is where our ethos comes from:
We are a Christian Community who express our faith by working to improve our community through commitment, friendship, action, care, compassion, love and neighbourliness. As a Salvation Army church we are committed to our personal faith in Jesus Christ and to expressing that faith through prayer and worship but also through our personal relationships, how we represent our community and how we fight for justice.
"They will rebuild the ancient ruins and restore the places long devastated; they will renew the ruined cities that have been devastated for generations." (Isaiah 61:4)
The Salvation Army Eden Project in Fitton Hill is part of a network of Salvation Army church's fro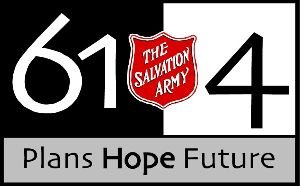 m across the world called 614 Network.
614uk has four Essentials 
The forgotten places: 614UK reflects God's concern for the poor by locating in neighbourhoods that are among the most deprived within the UK. We're found in the places that society often forgets and expect to discover that God is already at work there. The forgotten places are all around, 614UK is about finding them and showing them that someone has remembered.
Incarnational living: 614UKs first priority is to live within the neighbourhoods we are serving. By living there we fully experience local life, we are able to support the good things we discover and have opportunity to show love to our neighbours. Incarnational living is learning to live the Jesus way in full view of the people we are trying to serve.
Transformational experiences: 614UK believes that our neighbourhoods can change and become places of hope, peace and joy. We seek to act and speak out for justice in order to see lives changed economically, socially and spiritually. We recognise that being there changes our lives. Transformational experiences happen everywhere from the seemingly insignificant exchanges of every day life, the kind word, the welcoming smile, to the big projects of community change.
Building community: 614UK recognises that many live in alienation where they are disconnected from the people they live alongside. We maintain that this is not how life is meant to be and are committed to building bridges so that people can rebuild, restore and renew their communities. Building community is about creating spaces where people can not only meet each other, but learn to live and work together for the good of their neighbourhood.
Re-imagination 614UK is not only about living in some of the most deprived neighbourhoods out of God's compassion for these places. We're there because we believe that the Bible re-imagines something different for our neighbourhoods. The name 614 is taken from Isaiah 61:4. This chapter starts by saying 'the Spirit of the Sovereign Lord is on me because the Lord has anointed me to preach good news to the poor.' The first 2 verses place great emphasis upon what this servant will do for the poor, the broken-hearted, the captives, the prisoners and the mourners. It's about bringing, binding up, proclaiming, releasing, comforting and bestowing this good news which sees a change for the marginalised to their spiritual, emotional, economic and social lives. Then the prophet not only recognises the challenges that these people find themselves in – a reality of ashes, mourning and despair – but proposes an alternative of what life with this good news is like – a crown of beauty, the oil of gladness and a garment of praise. By experiencing this, those who have been marginalised will themselves 'rebuild the ancient ruins, restore the places long devastated, and renew the ruined cities that have been devastated for generations.' In many respects this passage highlights some of what we want to see in our neighbourhoods. We want to be people who bring a different story, live an alternative way and then see our friends and neighbours with dignity restored, rebuilding the walls of our neighbourhoods in the way that God imagines is best for our cities.